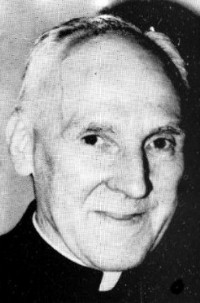 Born in Aix-les-Bains on 12 October 1901, Cardinal Gabriel-Marie Garrone studied at the University of Grenoble before entering the seminary where he studied at the Gregorian University in Rome.
He was ordained on 11 April 1925 for the Diocese of Chambéry where he began teaching in the Major Seminary soon after.
He was mobilised during World War II, captured and remained a prisoner until 1945 when he returned to the Major Seminary.
He was ordained coadjutor archbishop of Toulouse in 1947 and finally succeeded Archbishop Saliège in 1956.
In 1958 he published the short book 
L'action catholique, son histoire, sa doctrine, son panorama, son destin
 in response to an article by Bishop LJ Suenens of Malines-Brussels, questioning the notion of Catholic Action. He also published a number of articles in the journal Masses ouvrières.
He was vice-president of the Bishops Conference of France from 1964-66.
Archbishop Garrone played a major role at Vatican II, particularly in the preparation of Gaudium et Spes.
In 1966, Pope Paul VI called him to Rome to head the Congregation for Seminaries and Universities, and later the Congregation for Catholic Education.
He was made a cardinal in 1967 and died in 1994.
SOURCES